27 October 2021 – As EMBO Director Maria Leptin pointed out in her EMBO feature launching the publishing transparency initiative, "An open discussion of what it costs to run and maintain high quality, selective journals, and who should pay, is only possible on the basis of real data." EMBO's total publishing costs for 2019 were 4.23 million euros. The leading costs at EMBO Press are staff salaries and benefits, at 2.03 million euros. The second-largest expense (1.72 million euros) corresponds to publishing services and digital infrastructure. At EMBO Press much of this is provided by our publishing partners Wiley and Atypon. The remaining costs include administration, office costs, and editor conference travel (2020 figures were affected by the pandemic and will be discussed separately).
EMBO Press publishes two open-access (OA) journals, EMBO Molecular Medicine (EMM) and Molecular Systems Biology (MSB), and two hybrid journals (subscription journals with an open access option), The EMBO Journal (TEJ) and EMBO Reports (ER) (Life Science Alliance, co-published with CSHL Press and Rockefeller University Press, is not included in this analysis). Article Processing Charges (APCs) in 2019 were 4,700 euros per article for TEJ and ER, and 3,300 euros per article for EMM and MSB. EMBO Press does not charge APCs for invited reviews, news pieces, or commentaries, which incur additional editorial and production costs, including for professional science writers and illustrators. In 2019, the total revenue for the four journals was 5,568,294 euros, of which subscriptions generated 3,665,947 euros. The remaining revenue (1,902,347 euros) consists mainly of APCs and page charges.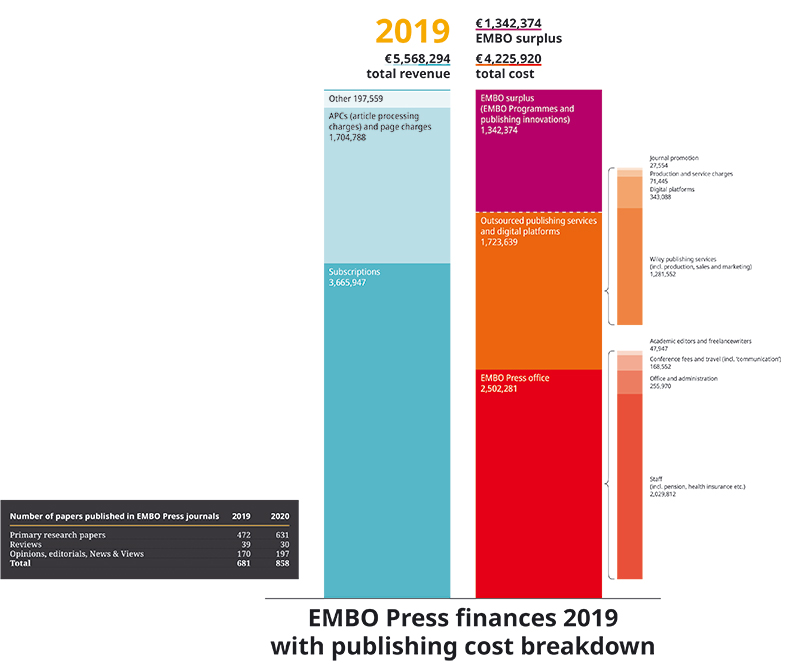 EMBO Press had a surplus of just over 1.3 million euros in 2019. This surplus is entirely reinvested in innovation – with a focus on developing tools for open science – and EMBO Programmes for the scientific community. For example, in 2019, EMBO launched Review Commons, a platform for journal-independent peer review of preprints. Review Commons has already received 890 manuscripts, of which 664 were sent out for review, and 220 have by now been published in affiliated journals. Review Commons remains a free platform, and it relies on EMBO Press editors to run its peer review process. It is only one of a suite of freely available open science platforms developed at EMBO and EMBO Press, including SourceData, SDash, and the Early Evidence Base.
EMBO Press encompasses 17 professional scientific editors and six support staff who run its selection, peer review, and publication process. In 2019, our four journals published 472 research papers, but EMBO Press editors and staff handled 5,766 submissions. As the head of EMBO Press, Bernd Pulverer, explained in an editorial in TEJ that "the cost of APCs has to scale with a journal's degree of selectivity." Disrupting this correlation of APCs with selectivity would require covering the costs of rejections by levying submission fees – an unpopular option.
EMBO Press invests in quality control and complements its thorough peer review process with a systematic scientific integrity and reproducibility screening service, as well as data curation and a nuanced, multi-tiered system for the correction of published articles. Our scientific editors assess data quality at all stages of the manuscript review and publication process. EMBO Press has a dedicated data integrity analyst, and copyediting services at Wiley include three trained biologists who double-check statistics and figures. Some screening tasks may be automated – EMBO Press is currently developing AI-assisted approaches – but the process will still require expert human oversight.
The bottom line remains the same as two years ago: covering our basic publication costs would require raising APCs to just short of 9,000 euros per research article. Thus, a financially sustainable transition to a Gold OA model at all four EMBO Press journals would represent a challenge for many authors not supported by dedicated publication funds, effectively excluding them based on financial, and not scientific, criteria.
The scientific community and its funders must decide if – or literally how much – they value high-quality selective journals, open-access, open science, and journalistic content. Through transparency, EMBO and EMBO Press want to contribute to grounding this debate in the financial realities of scientific publishing.
reviewcommons.org
sourcedata.embo.org
sdash.sourcedata.io
eeb.embo.org